Rogue-Like: Evolution
A Renpy game created by the artist Oni. The premise of the game is you are a new Mutant who has the ability to be immune to all other Mutant powers (updates will expand and add more powers in the future) including the girl with the deadly touch Rogue. She's intrigued and susceptible to your influence so you can either play nice and show her the love she's been missing or train her to be your lap dog.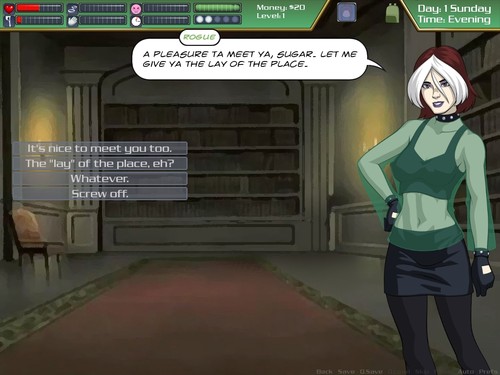 Windows/Mac
Update: 11 June, 2022
Genre: Adventure, Animation, Sexy Girl, Male Protagonist, Big Boobs, Interracial, Blowjob, Anal, Big Dick, Sexual Training, Rogue, X-Man, Cumshot, Parody, Handjob, Sexy Lingerie, Titsjob, Facial, Threesome, Voyeur, Hardcore Sex, Hairy Pussy, Domination, Sex Toys, 2DCG
Language: English
Size: 136 Mb – Pc Version (Version 2020CE)
Size: 93 Mb – Mac Version (Version 2020CE)
—————————————————————–
Size: 159 Mb – Pc Version (Version 0.998b)
Size: 157 Mb – Mac Version (Version 0.998b)
Size: 61 Mb – Android Version (Version 0.995c)
Uncensored
Rogue-Like: Evolution
Rogue-Like 202- no, wait, 0.990m, yeah
Ok, hope you guys enjoyed Rogue-Like 2020 and got to the bonus scene explaining what was going on with that one. 🙂 Here's another update for version 0.990, which includes the phone sex addition and telepathic sex with Emma (no Jean though). Also bug fixes that happened too long ago for me to remember, but you can check the bug reports from version L if you're curious. 😉
v0.998
Ok, putting together the finishing touches now, no more major content additions before it goes out, so I wanted to lay out what to expect. If this is your first time in the community when a new version goes out, welcome, but you should know what to expect. Day one releases tend to be pretty buggy. And day two. Sometimes day three. Ideally not day 7. But the point being, the early versions tend to be pretty buggy, DO NOT DOWNLOAD if all you want is to have fun playing the game without it crashing or causing weird animation glitches or something. That will come later. The early builds tend to be a bit of a mess, but with the help of this lovely community finding and reporting bugs, I try to work very hard to correct them as fast as possible, and tend to get out 2-3 new versions over the first few days, depending on how "game breaking" a given bug might be. Eventually over the next week or two I'll be bringing the game back to a stable version, and then you can jump on if that's all you're looking for. That's certainly how I'd play it. 😀
If you do find a bug, please report it in the release thread for that build, or in PMs to me, whichever you prefer. Take note of which version you have, and if I've come out with a version since then, you can still report the problem, but make sure to let me know because I may have already fixed that issue. If it's a game crashing bug, it should throw out a crash report. I will want to know the top portion of that report so please copy/paste it. There will be a line that says "Full Traceback" and then sometimes a lot of stuff after that, I generally do not need all that so if it's, long, you can trim that bit off, I usually only need the portion above it to track down the problem. Try and keep a game save from a bit before that bug, so that when I fix it, you can see if the fix worked for you. Oh, and before playing the new version, make sure that you have a save where you are in your room and alone, those are least likely to cause import issues between versions.
So what is in this version?:
– New HJ/BJ/TJ poses for Jubilee
– New relationship milestone dialogues for Jubilee
– Storm's new doggy style pose
– A new restaurant background when on dates.
What is still missing?:
– Storm's stockings and a few other clothing pieces in her doggy style pose.
– Storm's footjob pose in the doggy position
I intend to get that missing stuff finished up over the next few weeks and included by the last build of 0.998 before pivoting to the next one.
Things to look out for?
– Any animations that play in a way that doesn't seem right, please describe what is happening, and what you think should happen as clearly as possible.
– Any story scenes that break in some way, or do not play when you expect them to, etc. I may have missed a hook or something.
– Basic idiot typos (there are bound to be some).
Download: