Rogue-Like: Evolution
A Renpy game created by the artist Oni. The premise of the game is you are a new Mutant who has the ability to be immune to all other Mutant powers (updates will expand and add more powers in the future) including the girl with the deadly touch Rogue. She's intrigued and susceptible to your influence so you can either play nice and show her the love she's been missing or train her to be your lap dog.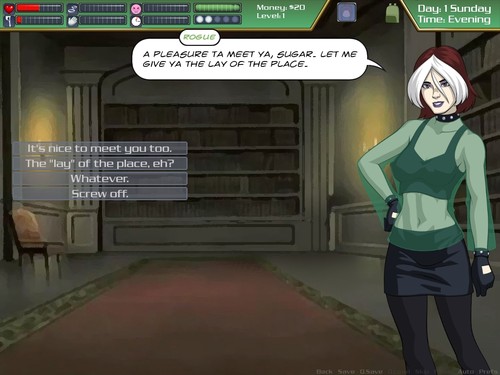 Windows
Update: 3 June, 2021
Genre: Adventure, Animation, Sexy Girl, Male Protagonist, Big Boobs, Interracial, Blowjob, Anal, Big Dick, Sexual Training, Rogue, X-Man, Cumshot, Parody, Handjob, Sexy Lingerie, Titsjob, Facial, Threesome, Voyeur, Hardcore Sex, Hairy Pussy, Domination, Sex Toys, 2DCG
Language: English
Size: 136 Mb – Pc Version (Version 2020CE)
Size: 93 Mb – Mac Version (Version 2020CE)
Size: 123 Mb – Pc Version (Version 0.994d)
Size: 121 Mb – Mac Version (Version 0.994c)
Size: 52 Mb – Android Version (Version 0.992f)
Uncensored
Rogue-Like: Evolution
Rogue-Like 202- no, wait, 0.990m, yeah
Ok, hope you guys enjoyed Rogue-Like 2020 and got to the bonus scene explaining what was going on with that one. 🙂 Here's another update for version 0.990, which includes the phone sex addition and telepathic sex with Emma (no Jean though). Also bug fixes that happened too long ago for me to remember, but you can check the bug reports from version L if you're curious. 😉
v0.994c
New this build:
I spent so much of this afternoon just poking holes in various stockings. . .
Jean and Storm should have proper holy stockings now, Emma still doesn't, and might not until next major version (0.995+).
The "shrug" crash that comes up in Storm's life story should be fixed.
Some issues with Kitty flipping poses unexpectedly should be fixed, but report any that are still happening.
I made some changes to various components in which girls are partially stripped and then behave in an expected way, like repeatedly trying to change back to other clothes or lost clothing magically reappearing. It's complicated.
A few other little things.
Download: