Big Brother – Version 0.13.0.007 : The main character is a guy living in a family with two sisters and mom. Oh the horror! Guy?! No need to worry. Therefore, guy in the frame will appear only when necessary. However, most of the time we will be monitoring the family. Only pre-render image corresponding to a situation event and need.For its part, will try to make every effort to from the aesthetic point of view, it was all good. Thirdly, a new approach to the gameplay. Instead focus on dialogue, the depth of character interaction. Instead of the number of npc will be a focus on quality.
The game will be adapted to any resolution. As windowed and full screen. The schedule will be calculated under the fullHD (1920×1080). If you have a lower resolution and quality will not be lost. If higher, a little lost clarity, but still remain at a high level. In addition, In plan to add options to adjust the size of interface elements (icons and text). Enjoy Big Brother – Version 0.13.0.007!
Windows all
Updated: 19 April, 2018
Genre: Adventure, Big Boobs, Family sex, Incest, Male Protagonist, Milf, Mom-son, Brother-Sister, sandlust, Sexy girl, Voyeur, Big Dick, Masturbation, Anal, Threesome, Dildo, Doggystyle, Spanking, Cumshot, Deepthroat, Sex Toys, Handjob, Public Sex, Titsjob, Cheating, Hardcore Sex, Facial, Lesbians
Language : English/Russian
Size: 1.78 Gb – Version 0.13.0.007
Size: 149 Mb – Shopping Adventure 0.6.1
Size: 1.57 Gb – Lisa's Photo Sesion
Size: 1.44 Gb – Untold Stories – Version 0.09
Uncensored
rar arhive
Changelog Version 0.13.0.007:
Ann gets a new job
Because of this, Max and Ann's relationship grows to another level
New sex ed lessons with Lisa and Ann
New series of events with Olivia if you didn't pick Lisa & Olivia route
New character Diane, Olivia's mom
New location: Olivia's house
A new movie
Note: Language you can change on L.
The mod is the text file. Put the file in the game directory. The mod menu is accessed through the laptop.
Clean install Lisa's Photo Sesions:
1. Make sure you have the base game installed
2. Download all MEGA – Files
3. Extract them and copy all images to the Images folder and overwrite the files when asked for it
4. Remark: copy all content of the extracted folders (jpg and subfolder) to BB/Images, or decrypt direct into BB/Images.
BB/Images should only contain jpg's and the subfolders (Subfolders contain the animation jpg).
5. Extract Mod LPSv021, copy/paste all to your main game directory and overwrite the files, when asked
Changelog
v0.22:07/05/18
– correct some bugs and missing lines
– add: Vicky's Adventure chapter 3
– add: Lisa's Sex Education chapter 1, continuing the education of basic BB game
v0.21:19/04/18
– changing variables
– correct scambled images
– adding some missing images
– re-check all images and emo with Big Brother Mod Editor
– transferring modparts from diamond-mod into text-files
– removal of duplicated scenes
– add Vicky's Adventure Chapter 2
– add new Lisa Homework scene
Install notes for Untold Stories – Version 0.09:
Download Base Game v.0.13 + Crack
Copy mod-files in your new BigBrother directory.
Don't use a other Assembly-CSharp.dll ! Use this provided with the mod!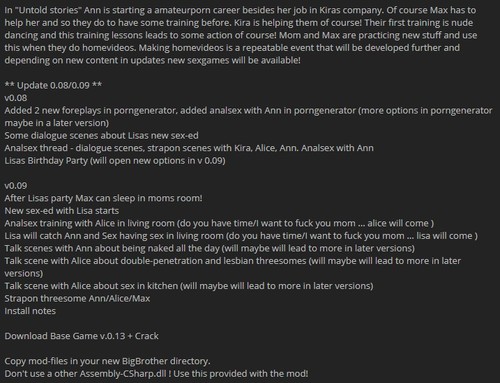 Download: