A Renpy game created by the artist Oni. The premise of the game is you are a new Mutant who has the ability to be immune to all other Mutant powers (updates will expand and add more powers in the future) including the girl with the deadly touch Rogue. She's intrigued and susceptible to your influence so you can either play nice and show her the love she's been missing or train her to be your lap dog.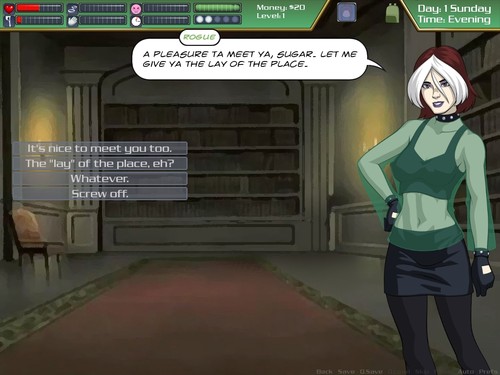 Windows/Mac/Linux
Updated: 10 October, 2018
Genre: Adventure, Animation, Sexy Girl, Male Protagonist, Big Boobs, Interracial, Blowjob, Anal, Big Dick, Sexual Training, Rouge, X-Man, Cumshot, Parody, Handjob, Sexy Lingerie, Titsjob, Facial, Threesome, Voyeur
Language: English
Size: 202 Mb
Uncensored
Rogue-Like 0.980e (polishing things up. . .)
Ok, a few fixes here, one for a crash that could occur during dates when the girls all left at some point, one for a bug with Emma not "sitting" during the dates, one involving the ability to lock and unlock the classroom (I plan to expand on this options a bit), one involving Xavier looking in on you, and hopefully one involving Rogue's addiction scenes causing some display errors. The only "new content" added in this one is that Emma now properly displays cumshots on her chest and belly when in her normal standing pose (previously it only worked when in one of her other poses).
Download: