Rouge-Like: Evolution
A Renpy game created by the artist Oni. The premise of the game is you are a new Mutant who has the ability to be immune to all other Mutant powers (updates will expand and add more powers in the future) including the girl with the deadly touch Rogue. She's intrigued and susceptible to your influence so you can either play nice and show her the love she's been missing or train her to be your lap dog.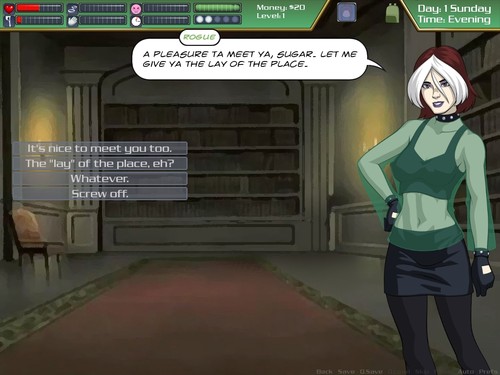 Windows/Mac/Linux
Updated: 26 March, 2019
Genre: Adventure, Animation, Sexy Girl, Male Protagonist, Big Boobs, Interracial, Blowjob, Anal, Big Dick, Sexual Training, Rouge, X-Man, Cumshot, Parody, Handjob, Sexy Lingerie, Titsjob, Facial, Threesome, Voyeur
Language: English
Size: 259 Mb
Uncensored
Rouge-Like: Evolution
Changelog 0.982e:
Ok, cleared up a few bugs, an issue where Rogue's stockings weren't staying on, an issue where Emm'a pants and underwear were staying on during sex, some "list" errors, I think I nailed down that "room is full" error people were reporting, the "E_Kiss" bug with Emm'a relationship dialogs. . . I think that's most of it. Oh, and taking a study session in any room other than Emma's may have been bugged in the previous builds, it should work better now, but saves inside study sessions might still be a bit glitchy.
Someone reported that when Rogue and Kitty were sleeping over, Emma showed up at some point in the morning. I made a change that might fix it but I'm still not entirely sure what's causing that one, so if anyone has that happen, try to take note of as many details as possible about exactly what steps happen before Emma gets involved.
Ok, so this one might get tricky. I've added some new stuff, some kind of complicated stuff, and hopefully it won't break too much, although some saves might be impacted. Let me know what the error messages are if they do.
The first thing this patch does is add some more behavioral checks in during threesomes. It makes it so that if things start out relatively innocent, but then get dirty, a more timid secondary character is more likely to quit, and likewise, it should reduce cases in which a second girl in a scene can get away with molesting a timid lead girl without consequences. This will likely lead to more scenes ending in failure, but hopefully in deliberate failure that makes sense rather than in ugly crashes. 😀 Give me feedback on this one, both the hard crash type stuff, but also cases in which a scene breaks down when you think it would reasonably have continued, or when you think you've gotten away with something that probably shouldn't have worked.
The second thing I added is that I significantly increased the combinations of things you can do with "post orgasm" options in threesomes. You now have the option of having the second girl clean you off, and in either case, both are likely to help. You can now also have the second girl clean off the first, which can be fun. I've done some initial testing and cleared out the more immediate bugs, but I imagine there will still be some cases where this can get things all confused up, so please report situations in which, say, the "wrong" girl seems to be in the lead after one of these actions or something. I do want to add the ability to choose which girl to cum on, but that'll have to wait a little bit.
There are various other little crash fixes and bug fixes too.
Download:
 https://fboom.me/file/95077d92fdee6/RougueL0982
or
https://rapidgator.net/file/595a43b759c81c95477d7e32641f9fc7/Rogue-Like-v0.982e-pc.rar.html