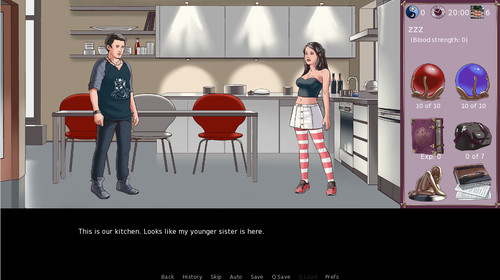 In this game you play as a young man, whose family inherited a mansion from a distant relative. There you are going to reveal some mysteries and to gain some dark powers. You will have to face demon attacks, to meet some strange persons, to protect your family (mom and sister), and to use their gratefulness to gain control over them and to make them your sex slaves.​
Platform: Windows
Updated: 6 November, 2018
Genre: Ren'py, Male Protagonist, Lurking Hedgehog, Demons, Fantasy, Hardcore Sex, Big Dick, Big Boobs, Doggystyle, Deepthroat, Cumshot, Crampie, Sexy Lingerie, Incest, Mom-Son, Milf, Brother-Sister, Blowjob, Public Sex
Language: English
Size: 823 Mb
Uncensored
rar arhive
Changelog:
– The bathroom is closed for this update. It will be opened in the next version.
– We changed the number of the update from v.1.7 to v.0.17. It looks like most of the players prefer this way of version numeration.
– We remade all Emma's texts. About 8000 strings of new text was written and corrected and coded. Now you have to interact with Emma more for her corruption, and you have two ways of reaching your goal: you can be gallant or you can be dominant. Making choices you can earn love points or submission points. Don't try to earn the maximum of both kinds of points – you don't need it. Emma will remember your choices and will respond according to her attitude towards her.
– Added new options for the kitchen:
o Give Emma compliment
o Help her with cooking
– Added event where Emma meets you in the kitchen after you managed to get some food and bring it home. This event helps you to earn Emma's points for her corruption.
– Added Emma's bad ending event. This happens when you forget to bring food home or when you mistreat Emma too much.
– Added new options for the living room:
o You can make Emma take off her clothes in the living room (4 options)
o You can touch Emma's breast while you watch TV
o You can make Emma dance for you in the living room
– Added new options for Emma's bedroom:
o You can give Emma a compliment
o You can give Emma a lewd compliment
o You can discipline Emma
o You can give Emma a bar of chocolate
o You can ask Emma for the keys (in this version her room is locked when she's not there and at night, so if you want to get in, you need to get the key first)
o You can use the Dark Ball or the Dark Storm (no matter which one) in Emma's room if you want to impress her or scare her.
o You can use the Stun Charm skill on Emma
o You can use the Dark Theft skill on Emma
o You can refuse Emma if she tells you to leave her room and to go away.
– Added 2 illustrations for Emma's scenes in the livingroom
– Added 4 illustrations for Emma's scenes where she takes off some article of her clothes
– Added 3 new sprites for the main character
Download: