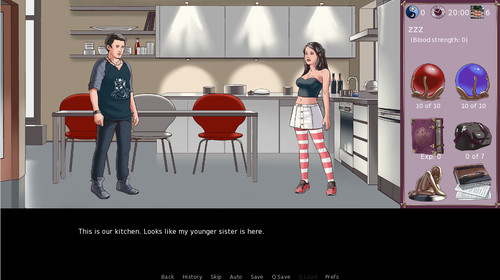 Lust and Power : In this game you play as a young man, whose family inherited a mansion from a distant relative. There you are going to reveal some mysteries and to gain some dark powers. You will have to face demon attacks, to meet some strange persons, to protect your family (mom and sister), and to use their gratefulness to gain control over them and to make them your sex slaves.​
Platform: Windows
Update: 10 January, 2020
Genre: Ren'py, Male Protagonist, Lurking Hedgehog, Demons, Fantasy, Hardcore Sex, Big Dick, Big Boobs, Doggystyle, Deepthroat, Cumshot, Crampie, Sexy Lingerie, Incest, Mom-Son, Milf, Brother-Sister, Blowjob, Public Sex
Language: English
Size: 1.28 Gb – Pc Version
Uncensored
rar arhive
Lust and Power
Warderobe spell:
sister: sexykitten
mom: sexymaid
Changelog v.0.27.a
– Added + 2 new options (or 4 scenes) for Emma and Kelly in the living room
Each of 2 options has 2 scenes showed differently based on whom you choose to play the main role – Emma or Kelly.
– Added 1 new big scene for Ann and Susan in the police station. 6 illustrations for each girl
Bugs and errors
– Bug: when you try to use "Feed the dog" option on Jessica playing domination route, it always fails. The scene was available only on love route.
– Logic bug: players could use smoke potions during the fight with red or yellow demons even if they had no such potions in the inventory.
– Image error: when you look at the town map, forest locations are shown as "Under construction", though they are already exist in the game.
– Image error: when using dark theft on Jessica's pants, instead of pants floating over, a text message floats over saying "jess_skirt" not found.
– Image error: game crashes when Jessica is trying to cover both upper and lower parts of her body with her hands while wearing dog costume.
– Image error: in the kitchen, if you talk with Emma and Kelly about your powers while having Emma's submission points between 40 and 70, you can get message "image not found".
– Image error: if you visit Jessica in the bathroom having her love points above 40, the game crashes because of the image failure.
Remove anti-cheat Post vAll (Works with every version of the game, present or future)
Console will be enabled. Cheats protections disabled.
Instructions:
Extract this inside your "Lust_and_Power-(XXXXX)-pc" folder. //XXXXX=the version you're playing
Windows will ask you to overwrite some files.
Say yes
Start game.
Shift + O <- this enables console
(IGNORE THE "//" and everything after it. It's just explaining what it does.)
v_my_weight_max = 9000 //sets max inventory space to 9000.
v_my_energy_max = 1000 //sets energy max to 1000
v_my_health_max = 1000 //sets health max to 1000
v_my_health = 1000 //sets health to 1000
v_my_energy = 1000 //sets energy to 1000
v_exp = 1000 //sets experience points to 1000 (which you can use to raise your spells levels)
v_dtm = 8 //sets time of day to 8 (only use if you're raising your spell levels and don't want to go to bed)
v_home_food = 10000 //sets food at home to 10000
v_home_batteries = 100 //sets batteries at home to 100 (take them when needed for sis)
v_home_chocolate = 100 //sets chocolate at home to 100 (you can use the one bellow to give sis chocolates, but it's always good to have some backup)
v_home_wine = 100 //sets wine at home to 100 (might as well have a stash)
v_inv_chocolate = 100 //sets chocolate in your inventory to 100 (Use it to give them to sis and increase stats.)
v_inv_food = 20 //sets food in inventory to 20 (good for the police quest)
v_inv_wine = 100 //sets wine in your inventory to 100 (it's good when you're improving potions and police quest)
v_inv_red_heart = 100 //sets red hearts in your inventory to 100 (good for the improving potions)
v_inv_yellow_heart = 100 //sets yellow hearts in your inventory to 100 (good for the improving potions)
v_food_collector = 10000 //sets the amount of times you've collected food to 10000. (This means you can progress on your moms early stage quests pretty easily)
v_inv_gold = 10000 //sets gold in your inventory to 10000 (this is for the witch quest or something like that)
Download: