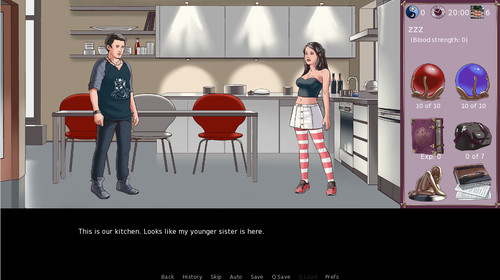 In this game you play as a young man, whose family inherited a mansion from a distant relative. There you are going to reveal some mysteries and to gain some dark powers. You will have to face demon attacks, to meet some strange persons, to protect your family (mom and sister), and to use their gratefulness to gain control over them and to make them your sex slaves.​
Platform: Windows
Updated: 14 June, 2018
Genre: Ren'py, Male Protagonist, Lurking Hedgehog, Demons, Fantasy, Hardcore Sex, Big Dick, Big Boobs, Doggystyle, Deepthroat, Cumshot, Crampie, Sexy Lingerie, Incest, Mom-Son, Milf, Brother-Sister, Blowjob, Public Sex
Language: English
Size: 626 Mb
Uncensored
rar arhive
Changelog:
– added + 3 new Kelly scenes
– now when you are in a battle, you can see your chances of success for each skill. This should help you to make more effective decisions during the fight. This will also help to your better understanding of how the levels of your skills affect your chances, how your energy or your opponent's energy affects your chances, and what's the difference between your various enemies. Have in mind that high chance of success doesn't guarantee the success.
– about 100 misprints and text errors were corrected and fixed (thanks to Deonast who reported about them).
Download: